Pyaar Lona Paagal song lyrics penned by Kasarla Shyam, music composed by Harshavardhan Rameshwar, and sung by Raviteja from the movie Ravanasura.
---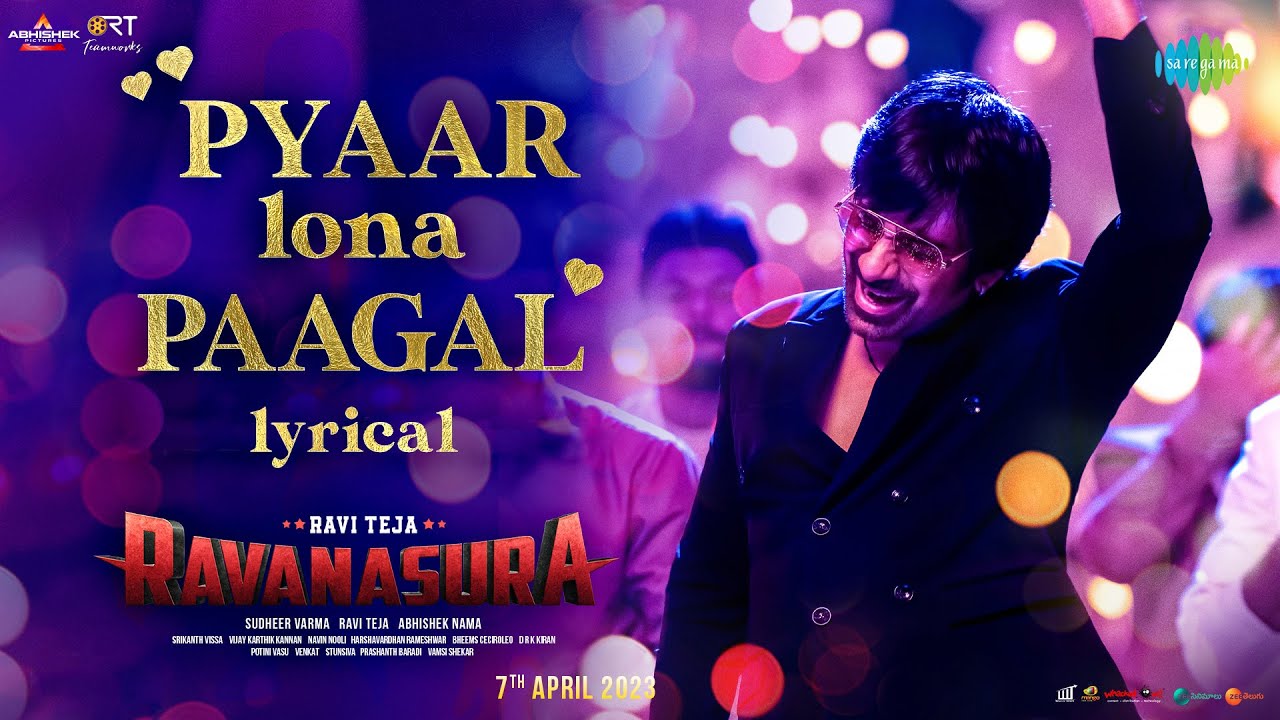 ---
---

ఓ ఓ ఓ కనకమాలాచి
ప్రేమించి ఇత్తా వధిలెక్కకే, హ హ హ
కమ్ ఆన్ బాయ్స్..!
హలో మై డియర్ బాయ్స్ అండ్ గర్ల్స్
దయచేసి నా విచారకరమైన కథను వినండి
మేరీ గర్ల్ ఫ్రెండ్ ముహ్జే చోడ్ కే చలీ గయీ
ఔర్ మెయిన్ పాగల్ హోగయా…
నేను ప్యార్ లోనా పాగలే
స్థానిక బాబా సెహగాలే
నీకు పెళ్లి పీటలే
నాకేమో బ్రేకప్ పాటలే
దిల్లు నీకే ఇచ్చానే
ఫుల్లు నాకే ఇచ్చావే
వాడికి సిగ్నల్ ఇచ్చావే
నన్నేమో రోడ్ కి గుంజావే
నేనే సిన్సియర్ లవ్వెరే
పెట్టినావే పువ్వు యే
కన్నీళ్లు నాకే షవర్ యే
ఓదార్చేది ఎవ్వరే, గలీజ్

పగిలిపోయిన హృదయం ముక్కలూ
ఈ విస్కీతో అతుకుధామణి నా ఆశా
ఇంట్లో చూస్తే మహాలక్ష్మి టైపు
Instagramలో జ్యోతి లక్ష్మి ఊపు
బ్యాండ్ బాజా నువ్వే గీసిన మాపు
గుండె పగిలి ఉన్నానే నీ వైపు

నాకు గోలీమార్... నీకేమో టీనుమార్
నా సీట్ కాస్త ఫైర్.. నీకు ఫ్లైట్ లో శిఖారు
గ్రీటింగ్ కార్డ్ నీకిస్తే వెడ్డింగ్ కార్డ్ యే ఇచ్చావే

వాడిలో ఎం చూసావే
నన్నే ఎందుకు ముంచావే
భలే భలే ఛాన్స్ లే
నీ బారాతులో డాన్స్ లే
ఎస్తే మూడు ఔన్సేలే
అరె ఆజాము, ఓయ్
అప్పుడే ఆపావెంట్రా
ఆది సంతోషంతో తపాన్
కుత్తుచెత్తండిర దానమ్మ, కొత్తండ్రేయ్.

ప్రతి మనిషి ఏదో ఒక మత్తులో తనకి ఇష్టం లేనిదే కష్టం 
అనేది మార్చిపోవడానికి ప్రయత్నం చేస్తూనే ఉంటాడు. 
మరుపన్నాది లేకుంటే మానవ జీవితం నరకం, నరకం, నరకం.




O O O Kanakamaalachhi Preminchi 
Ittaa Vadhilekkake, Ha Ha Ha
 Come on Boys..! 
Hello My Dear Boys and Girls
 Please Listen to My Sad Story 
Meri Girl Friend Muhje Chod Ke Chali Gayi
Aur Main Pagal Hogayaa…
Nenu Pyaar Lona Paagale
Local Baba Sehagale
Neeku Pelli Peetale
Naakemo Breakup Paatale
Dillu Neeke Ichhaane
Fullu Naake Ichhave
Vaadiki Signal Ichaave
Nannemo Road Ki Gunjaave
Nene Sincere Lovvere
Pettinaave Flower Ye
Kanneellu Naake Shower Ye
Odaarchedhi Evvare, Galeej

Pagilipoyina Hrudayam Mukkalu
Ee Whiskytho Athukudhaamani Na Aasha
Intlo Choosthe Mahalakshmi Type
InstagramLo Jyoti Lakshmi Oopu
Band Baaja Nuvve Geesina Mapu
Gunde Pagili Unnaane Nee Vaipu

Naaku Golimar… Neekemo Teenumaar
Naa Seat Kinda Fire.. Neeku Flight Lo Shikhaaru
Greeting Card Neekisthe Wedding Card Ye Ichhaave

Vaadilo Em Chooshaave
Nanne Enduku Munchaave
Bhale Bhale Chance Le
Nee Baraathulo Dance Le
Esthe Moodu OunceLe
Are Aajaamu, Oyy
Appude Aapaaventraa
Adhi Santoshamtho Tapaan
Kutthuchetthandira Daanamma, Kottandreyy.

Prathi Manishi Edho Oka Matthulo Tanaki Ishtam Lenidhe Kashtam 
Anedhi Marchipovadaaniki Prayathnisthune Untaadu. 
Marupannadhi Lekunte Maanava Jeevitham Narakam, Narakam, Narakam.